Digital Image Correlation method for monitoring tensile tests at high temperature. Part 1: comparing the speckle quality produced by various methods at high temperature
In order to improve the thermo-mechanical models proposed for hot forming processes, the identification and validation of the numerical simulations could take advantage of continuous kinematic full field measurements achieved during different production steps. This kind of measurements could especially be obtained by Digital Image Correlation. Although this method is relatively mastered at room temperature, it is more complex to implement at high temperature (typically from 600°C to 800°C). This is due to a number of factors, including the mirage effect (phenomena of gradient of refractive index), the loss of image contrast and the speckle flaking observed during thermo-mechanical experiments. This study focus on fabrication methods of speckle and its characteristics at high temperature. The first part introduces different techniques for creating the speckle (paint spraying, anodization, laser engraving and combination between anodization and laser engraving). In order to compare these methods, the same mask (prepared from a synthetic image) is systematically used. The pattern obtained therefore meets certain criteria (density, size, correlation length, etc.) and can be reproduced. Images of the speckled surface are then captured at different temperatures and compared in term of contrast, gray level distribution, etc. The first results show that the speckle obtained by combining laser marking and anodizing leads to better contrast when compared with other techniques at room temperature. However, this result is no more certain at high temperature because of the oxidation layer that develops. In the second part, the adhesion on the surface of a Ti-6Al-4V alloy of the speckles produced using different methods is evaluated. Tensile tests performed at high-temperature with large strain are then performed. In conclusion, a guideline for choosing an appropriate speckle deposition method for studying conditions of hot forming process is suggested.
L'objectif globale de cet étude est de développer une méthodologie afin d'améliorer la mesure cinématique pendant des essais mécaniques sur le matériau d'alliage de titane dans condition d'emboutissage à chaud. Afin de contribuer à l'optimisation de la méthode corrélation d'image (DIC) dans ce contexte spécifique, la génération de mouchetis adapté aux conditions de mesure est proposée. Dans un premier temps, les mouchetis préparés par plusieurs méthodes différentes sont comparés en termes de la qualité. Pour pouvoir comparer objectivement, un mouchetis numérique est systématiquement utilisé. Dans un deuxième temps, les images de surfaces mouchetées sont capturées à différentes températures et puis comparées selon plusieurs critères variées par exemple le contraste, le niveau de gris, etc…. A température ambiante, le premier résultat montre que le mouchetis préparé par la méthode anodisation présente le meilleur contraste. Cependant, à haute température, cette observation est plus valable à cause de l'oxydation développée. Troisièmement, l'adhésion du mouchetis sur la surface des éprouvettes en alliage de titane Ti-6Al-4V en grande déformation est évaluée. Mouchetis préparé par la méthode gravure laser résiste à la rupture. En même temps, le mouchetis préparé par la peinture s'écaille au début de la déformation plastique. En conclusion, une suggestion de choix du mouchetis adapé aux conditions de mise en forme à chaud est proposée.
Fichier principal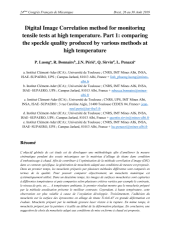 CFM_2019Luong.pdf (1.61 Mo)
Télécharger le fichier
Origin : Files produced by the author(s)